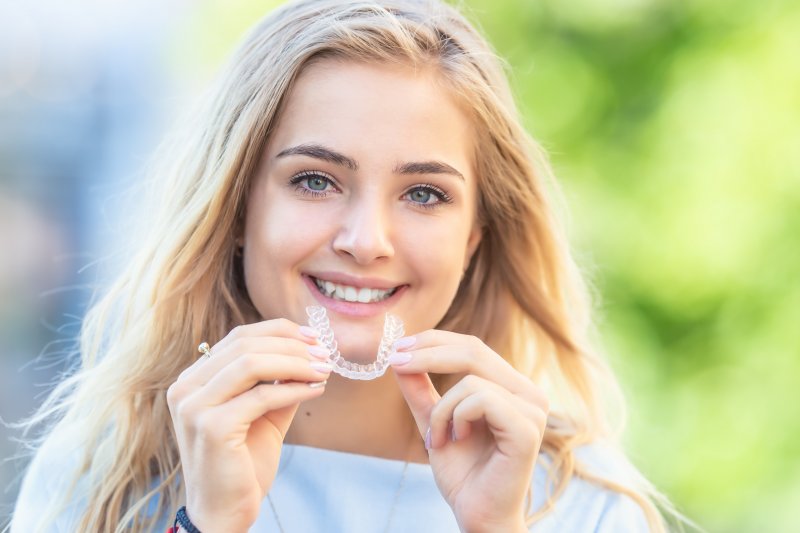 There are many adults and teens out there who choose Invisalign because it is virtually invisible. A lot of people don't want to be going throughout their daily lives with a mouthful of metal brackets and wires, which is completely understandable. However, some of the other benefits of Invisalign sometimes go under the radar. Continue reading to learn about how you can benefit from Invisalign in a variety of different ways.
Invisalign Is Not Bonded to the Teeth
One of the main differences between Invisalign and traditional orthodontics is the fact that the clear aligners can be removed while metal brackets and wires cannot. This allows the wearer to remove their braces when it is time to eat or brush their teeth. This also eliminates the need to put up with any dietary restrictions throughout the treatment. As long as the patient is wearing their trays for at least 22 hours each day, they are in the clear!
Requires Fewer Dental Visits
The braces that you know need to be tightened routinely. However, patients are able to switch to a new set of aligners every couple of weeks with Invisalign. This means that there are fewer dental visits involved with the treatment.
Easier to Clean Your Teeth
With traditional braces, it can be difficult for you to clean your teeth. When you're working around metal brackets and wires, there are more places that you will miss. With Invisalign, you remove the aligners before you clean your teeth. This way, you are able to brush and floss more thoroughly, ultimately reducing your risk of developing tooth decay and periodontal disease.
More Comfortable
There isn't a single tooth straightening option out there that will completely free you from all the discomforts that come along with realigning teeth, but Invisalign does tend to be more comfortable than traditional braces. This is because it uses less overall pressure to straighten your teeth, leaving you will less soreness in the process.
Fixes a Variety of Misalignment Issues
In some more complicated cases, traditional braces are needed to correct misaligned teeth. However, most of the time, Invisalign can do the trick. Here are some of the many issues that Invisalign can fix:
Overcrowding
Crooked teeth
Gapped teeth
Overbite
Underbite
Crossbite
Open bite
In addition to being virtually invisible, Invisalign has so many other advantages. Talk to your dentist to determine if you would make a good candidate for the treatment.
About the Author
Dr. Praveena Muddana graduated from Narayana Dental College in India before earning her second dental degree from the NYU College of Dentistry. Currently, she is a member of the American Dental Association, Wisconsin Dental Association, and the American Academy of Cosmetic Dentistry. For more information in Invisalign or to schedule an appointment at her office in Grafton, WI, visit her website or call (972) 517-8300.