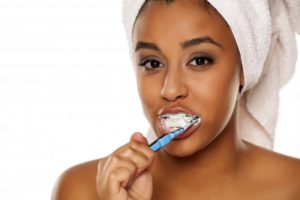 You've achieved the smile of your dreams with porcelain veneers. The last thing you want is to compromise it or develop cavities. Since your teeth are covered with durable porcelain, are they protected? Continue reading to find out if you're still vulnerable to tooth decay and to get tips on maintaining your veneers.
Understanding How Porcelain Veneers Work
Veneers are marvelous when it comes to masking dental flaws to transform a smile. Whether your teeth had minor cracks, chips, discoloration or gaps, your veneers have done a wonderful job of revamping your appearance. While they produce phenomenal results, the thin fixtures can't stop tooth decay.
How Cavities Can Still Develop
When it comes to cavity prevention, veneers are ineffective because they are only adhered to the front of the teeth. This leaves the remaining area susceptible to bacteria growth. The microorganisms are always present in the mouth, and when food or beverages are consumed, they are attracted to any remaining debris on the teeth and along the gum line. While the groove-free surface of veneers makes it harder for bacteria and leftover food particles to accumulate, they can still gather on the other parts of the teeth.
Over time, hundreds of different types of bacteria can form plaque. The sticky substance leaves an acidic footprint on the teeth to eventually lead to decay.
Do This to Protect Yourself
It's much easier to prevent cavity development than it is to receive restorative care. Here are some steps you can take to maintain the best oral health possible:
Consistent Toothbrushing – Brush your teeth at least two times a day to remove debris that could lead to plaque development.
Regular Flossing – Use dental floss at least once a day to remove leftover particles that gather in the tight spaces between the teeth. In addition to protecting your teeth and gums, it will help to maintain fresh breath.
Clean Your Teeth in the Right Sequence – Floss before brushing your teeth to ensure more bacteria and plaque are removed. This will also allow the fluoride in your toothpaste to be more effective.
Visit Your Dentist – Maintain regular visits with your dentist for cleanings and checkups. Therefore, any budding oral health issues can be spotted and treated before they can compromise your veneers.
In addition to protecting your teeth from cavity formation and your gums from inflammation, maintaining excellent dental care habits will help to preserve your veneers. With the right efforts, you could possibly enjoy your new smile for up to 15 years. That means you'll get an excellent return on your investment and confidently pose for photos well into the future!
About the Author
Dr. Praveena Muddana is a graduate of the NYU College of Dentistry. As part of her constant drive for excellence, she maintains professional affiliation with the American Academy of Cosmetic Dentistry. A compassionate and gentle artisan, Dr. Muddana takes a careful approach to meeting the cosmetic and preventive needs of her patients. She can be reached for more information or to schedule a visit through her website.