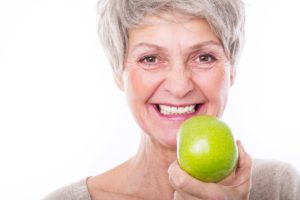 If you've tried traditional tooth replacement treatments before, like a bridge or denture, you know they have their limitations. Although they've been improved over the years to look and feel more natural, they will always have their disadvantages, like needing to be replaced often. As an alternative to conventional prosthetics, you can enjoy the next best thing to your real teeth with dental implants. It's normal to be a bit skeptical, but there isn't any reason to fret. Here's what you can expect with your new smile to feel confident about the road ahead.
1. Mimics the Entire Tooth Structure
Traditional bridges, partials, and dentures only recreate the portions of your teeth that are visible above the gum line. A dental implant goes a step further because it treats the entire tooth, including the root. An implant post is surgically placed into your jaw to serve as a new root. As a result, you can expect there to be some discomfort during your recovery, but after your mouth heals, you won't have any pain. The final step to completing your smile involves attaching a custom-made restoration to the post using an abutment. When all phases are complete, you'll benefit from a nearly perfect replica of your natural teeth to bite, chew, and smile without any concerns.
2. Unmatched Support and Stability
With the implant post acting as the root, it encourages new bone growth to allow your jaw to fuse to it through a process called osseointegration. It can take several weeks, but after your bone has integrated with the post, you'll have unmatched stability. Your restoration will be anchored to your jawbone instead of relying on adjacent teeth or an adhesive for support. You'll never experience any slipping or irritation when eating your favorite meal or worry your denture will fall out if you laugh too hard.
3. Regain Your Natural Biting Force
You can enjoy a wide variety of foods again because your new teeth will have the security of your jawbone supporting them. You can regain as much as 70% of your natural biting force to maintain a balanced diet. You won't feel any pain or discomfort when biting or chewing; however, it's best to avoid foods that are sticky, chewy, or hard.
Choose a Long-Term Solution
Your dental implants can last for a lifetime with the right aftercare, like committing to your oral hygiene at home and visiting your dentist at least twice a year. You should never experience any pain or a feeling that the implant is loose. If either symptom occurs, contact your dentist right away. They'll save your smile, so it can continue to serve you for many years.
About Dr. Praveena Muddana
Dr. Muddana earned her dental degree at the NYU College of Dentistry, and she regularly continues her training to offer advanced dental solutions. As a member of the American Dental Association, Wisconsin Dental Association, and the American Academy of Cosmetic Dentistry, she can create the healthy, beautiful smile you deserve. Contact our office today to schedule an appointment.