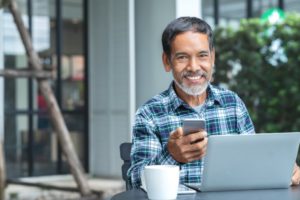 In 1974, the Rolling Stones released the song "Time Waits For No One." While the sentiment of that song title is true, Mick Jagger and crew are still out there touring and rocking in their late 70s!
Thanks to the advances in cosmetic dentistry, your smile can keep on rocking no matter how many years go by. If you want to look younger, teeth that are white and aligned are a great place to start.
Keep reading to learn about some ways that aging can take a toll on your smile, as well as options your dentist can provide to help you stay forever young.
What are Some Dental Problems Associated with Aging?
Some of the ways your smile ages are going to happen with time, while others can be prevented:
Darkened or yellow teeth: As people age, the underlying tooth layer thickens, causing their teeth to look discolored
Dingy teeth: Smoking tobacco or drinking dark beverages can speed up this change
Crooked teeth: Problems with gum tissue can lead to gums receding, and then teeth may no longer remain in their original positions
Worn-down teeth: Over time, chewing and grinding wear away at the enamel and structure of teeth
Fragile teeth: Teeth become more brittle with age, leading to chips, cracks, and shearing
What Cosmetic Dentistry Options Do You Have to Upgrade Your Smile?
Your dentist can provide a variety of services and it comes down to what best fits your needs:
Porcelain Veneers: Placed in as few as two appointments, these ultra-thin customized restorations are resistant to staining, plus they are durable and very lifelike. They can alter the size or shape of your teeth if desired.
Dental Bonding: This effective solution for chipped, cracked, or gapped teeth can take as little as one hour at your dentist's office. Plastic composite resin is artfully sculpted around your tooth to hide imperfections and can last more than a decade.
Metal-Free Restorations: Your dentist offers tooth-colored fillings and crowns to help decayed or otherwise damaged teeth look brand-new again.
Teeth Whitening: Whether you want in-office treatment or convenient take-home kits, your dentist can make stains due to coffee, wine, tobacco, and even natural aging seemingly disappear.
You don't have to deal with teeth you aren't happy with. Instead, visit your dentist to formulate a treatment plan that will have you smiling like it's going out of style!
About the Practice
At Sweet Smiles Family Dentistry, we are proud to offer a wide range of treatments so our patients can stay with a team they know and trust over time. We have three dental offices with evening and Saturday appointments so we can fit into your schedule. Whether you want to get some take-home teeth whitening kits or make a long-term commitment with porcelain veneers, we are ready to help with the cosmetic dentistry option that best suits your needs. To schedule a consultation, visit our website or call (414) 808-2003.