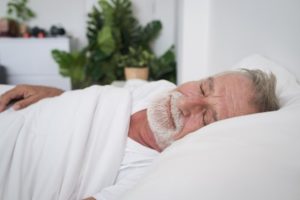 If you've just had your wisdom teeth extracted, you're probably hoping to speed through your recovery period and get back to your normal routine as quickly as possible. One of the best ways to ensure a smooth and speedy recovery is by getting enough sleep in the weeks following the procedure—but that isn't always easy. Here are a few tips from your dentist to help you get enough rest following wisdom teeth extractions.
Tip #1. Sleep in the Proper Position
You should rest with your head elevated above your heart for the first 24 hours following your procedure. This is easy to do if you stack an extra pillow or two underneath your head, or you can choose to sleep in a reclining chair. This ultimately reduces the amount of swelling that occurs and promotes clotting on the incision site, which is crucial for the healing process.
Tip #2. Take Medication as Instructed
You'll likely be given prescription pain medication after your procedure, so be sure to take it as directed—generally before going to bed, or earlier depending on the instructions. This will assist with any lingering soreness that might cause sleep disruption. If you don't have a prescription, over-the-counter pain medication such as ibuprofen is a good substitute.
Tip #3. Remove Your Gauze
Following wisdom tooth extractions, gauze pads are placed on the incision site to reduce bleeding and assist with the healing process. It's recommended that you remove the gauze a few hours after the surgery and before you go to bed, in order to prevent any choking accidents.
Tip #4. Apply an Ice Pack Before Bed
Research shows that applying ice after wisdom teeth extractions will help with the pain and also reduce swelling. You can wrap the ice pack in a cloth and place it on your jaw for 20 minutes. You might consider including this step in your nightly routine to reduce your discomfort so you can more easily fall asleep.
It's important to take care of your body following any type of procedure—especially wisdom teeth extractions. That said, following these tips will ensure that you're getting enough rest and recuperating as intended.
About the Practice
Sweet Smiles Family Dentistry has proudly served patients and families in the Milwaukee, Grafton, and Mt. Pleasant areas for several years. They offer a wide range of preventive, cosmetic, and restorative services. They're also pleased to offer wisdom teeth extractions. If you have any questions about the article or would like to arrange a visit, you can contact the practice online to find a location near you.