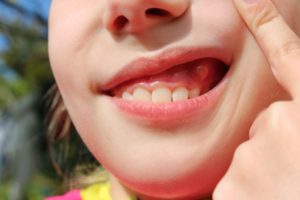 While your teeth are most commonly thought of when tending to your oral health, your gums are important, too! They anchor your pearly whites in place and provide a barrier against bacteria. However, you probably don't give much thought to the soft tissues of your mouth most of the time. That is until something abnormal occurs, like having a bump on them. While this can be harmless, it can also be a sign of more serious oral health issues. Read on to learn a few possible causes of a bump on your gums and when you should go see your dentist for treatment.
5 Possible Reasons for a Bump on Your Gums
Having a bump on your gums can not only be annoying but also be concerning. Here are five of the most common causes of this condition:
A Canker sore: Canker sores are very common. It is a small ulcer that forms inside the mouth or gums. They usually go away on their own within a couple of weeks; however, they can cause discomfort while eating or drinking. You can take an over-the-counter pain reliever to help you manage it.
A Cyst: A small sack, typically filled with air, liquid, or some other soft materials, is a cyst. It can form around your gums and teeth and even the roots of buried or dead teeth. If it grows large enough, it can place pressure on your entire mouth and cause weakness in your jaw.
An Abscess: A periodontal (gum) abscess is a small collection of pus caused by a bacterial infection. It is quite painful and you will more than likely need to visit your dentist immediately so they can drain the abscess. If the infection goes untreated for too long, you may need a root canal or tooth extraction.
Mandibular Torus: This condition can be a single or cluster of bony lumps in the upper or lower jaw. It is essentially a benign bone growth that appears on the inside of a lower jaw, around the tongue, or near the teeth. A mandibular torus typically feels hard and smooth and usually requires no treatment.
Oral Cancer: An uncomfortable bump on the oral soft tissues can also indicate a cancerous tumor. If you are completely unsure of the reason for your bump, it's best to schedule an examination with your dentist. They will take samples of the growth and examine it for cancer cells. A customized treatment plan will be made based on the findings.
When Should You Go Visit Your Dentist?
The good news is that most bumps on gums are harmless! However, you should see a dentist right away if you notice any of the following:
Fever
Throbbing pain
A foul taste in the mouth or intensely bad breath
A sore that does not heal or becomes worse over time
Red or white patches inside your mouth or on your lips
A bleeding sore or lump
Your oral health is essential to your well-being. If you are not sure what the bump is on your gums, your dentist is there to help you determine the cause and return to a healthy, beautiful smile!
About the Practice
Sweet Smiles Family Dentistry is eager to help keep your oral health in top condition through the expertise of its two dentists. They offer a comprehensive range of dental services, including emergency care and periodontal therapy. By using advanced dental technology and customized plans, they can assist you with any of your oral health needs. To schedule an appointment, contact them through their website or call (262) 333-0540.